About Willco Tree LLC
Professional and Honest Tree Service, providing Quality work for ALL of Denver Metro
At Willco Tree LLC. we are professional arborists offering tree removal and trimming services. Pruning or removing trees, especially large trees, can be dangerous work. Willco Tree is trained and equipped to work safely in trees. We are a locally owned and operated family company, and our goal is to provide excellent tree service for both residential and commercial properties at a price you can afford.
Our certified arborists offer tree removal, tree trimming, storm damage repair, and ornamental tree pruning. We are open on weekdays and Saturdays for estimates from 7AM to Noon and offer emergency service.
Call us today for a Free estimate 303-647-5590. For Tree removal, pruning and trimming. Safety is our TOP PRIORITY!
Services We Provide
Do you have dead or diseased trees around your home or business? At Willco Tree LLC, we offer a wide range of services for residential and commercial properties. From tree trimming to storm damage repair, we have you covered. We provide a free estimate and deliver prompt, professional work.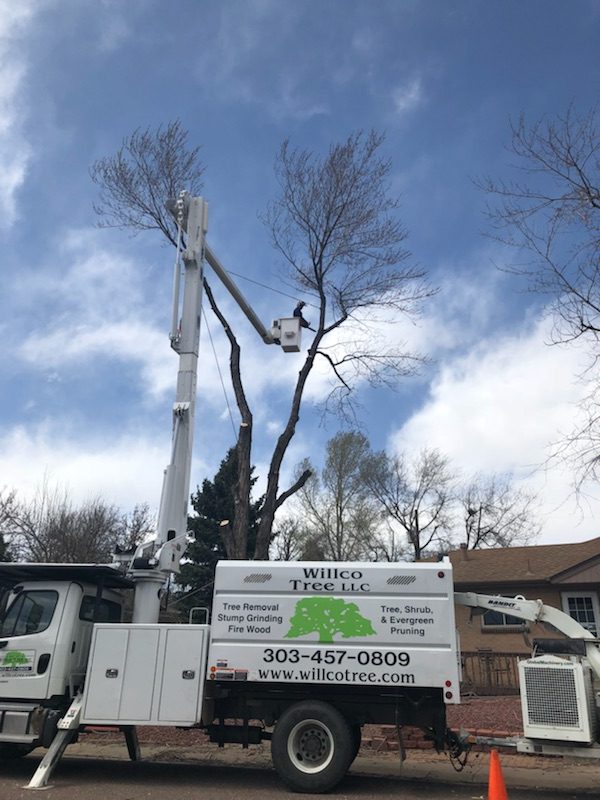 Our Services Include
Tree Removal
Tree Trimming
Dead-Wooding
Ornamental Tree Pruning
Shade Tree Pruning
Shrub and Evergreen Pruning
Storm Damage Repair
Fire Wood
Tree Fertilization
Additional Services
Emergency Tree Service
Saturday AM Estimates Available
Free Estimates
Senior Discounts
Monthly Specials
Happy Clients
These guys were great! Third generation and going strong. Dad gave me a quick, fair and affordable quote. They were able to take down my 70 foot tall Cottonwood the next week. The sons showed up on time and had the tree on the ground piece by piece in 4 hours. It did take a while to get it all cut up and loaded on truck. They took a lot of time cleaning my area and the neighbors as well. They left no sign of my beautiful tree. AMAZING...
I had a 12in diameter 15ft tall tree fall onto my fence due to wind and Beatle damage. I found the problem in the morning and contacted Willco Tree when they opened. They were out within a few hours. These guys came and were very professional and knowledgeable. They had my broken tree out and cleaned up within 30 min! They are family owned and have great work ethics which for me goes a long way. I highly recommend this team and will be contacting them in March for a Beatle spray on a few other trees.
They took out a huge dead elm tree that was threatening our house, our neighbours and also had two electrical lines running next to it. Nothing was damaged, the limbs were lowered to reduce impact on the yard and they left the yard cleaner than they got here. Fantastic service, hard to beat prices and great communicaton the whole way. Use there guys, they're legit!
Over 40 Years & Three Generations Of Experience LICENSED | Insured | Residental And Commercial | Free Estimates
CONTACT US
We serve homeowners, subdivisions and commercial property owners in the Metro Area and Denver, Colorado. Willco Tree LLC can help with any tree service you may need. Call us 303-647-5590 for more information!